In some case, the Chipolo app might be shut down accidentally or by the phone's internal battery saving settings or there might be some other problem preventing your Chipolo app from functioning properly.
To let you know about the potential problems, we send you automated messages when we detect that your Chipolo app isn't communicating with our servers. This is done to make sure you fix any issues in time and make sure Chipolo app will be able to help you when you will need it to search for your items.
The app health emails are sent multiple times in a span of several months (e.g. after 48 hours, after a few days, after a month etc.) until the Chipolo app is back online or you disable the emails.
Don't want to receive these e-mails?
These messages can be disabled for your account through the Chipolo web app.
Please follow these steps to disable these e-mails:
1. Open the Chipolo web app on your computer or smartphone and sign in using the same details (email address and password) that you use to sign into the Chipolo app on your phone;
2. In the web app, click on the icon in the top-right corner to open the navigation menu;

3. Choose 'Account Settings';

4. Choose 'Notifications and Privacy';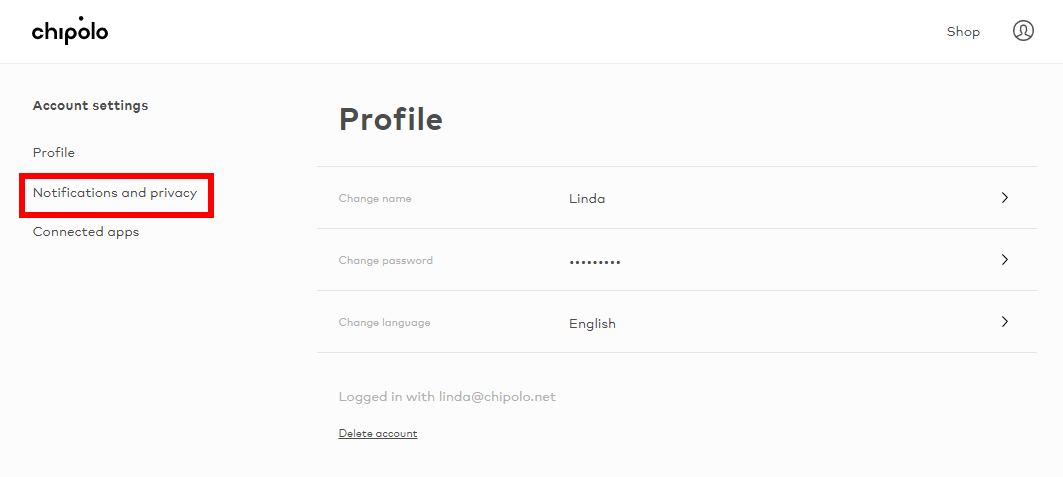 5. Here you can enable or disable the 'App health messages' for your account. Make sure to hit 'Save' to save your edited preferences.